WHAT IS IT ABOUT CUSTOM-MADE FURNITURE THAT IS SO IN DEMAND?
Many of us fantasise about having custom-made furniture that fits exactly in our houses. In Australia, we are really lucky to have access to a wide number of designers and manufacturers. They are eager to work with us to create our own range of bespoke furniture.
Bespoke furniture necessitates a great amount of time and effort on the part of a qualified craftsperson.
They are always the perfect size, carefully manufactured, and expertly assembled, so there is no reason they shouldn't last a lifetime (or longer).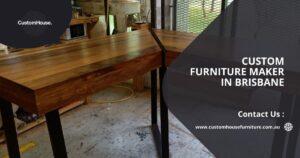 The advantages of purchasing custom furniture that is made to order
To begin, let us define precisely what we mean when we say "custom furniture."
A piece of furniture is deemed "custom" if it offers the consumer a variety of options in order to satisfy the customer's tastes, such as a certain color or type of wood.
Custom furniture is getting more popular, but you may be wondering where this demand stems from.
Why is it that customized furniture is more appealing than furniture purchased in a store that offers identical pieces?
Customized furniture is one-of-a-kind.
Because your furniture is shaped by a skilled artisan rather than a machine. You may be confident that it will be absolutely unique. No two pieces of furniture will be exactly the same. When anything is the only one of its kind, it gains the status of being unique and coveted. People like to make a fashion statement. By placing a custom order, you may create a one-of-a-kind appearance for your home decor.
People who want one-of-a-kind furniture pieces usually look for shops that sell unique items.
Customers can have their purchases customized by bespoke furniture makers.
All of these characteristics are achievable when the piece is designed by an artisan.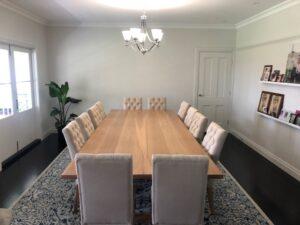 Obtain professional guidance and carefully crafted furniture
Perhaps you believe your friendly neighbourhood carpenter can construct you that perfect kitchen table or rocking chair you've always wanted. And it's probable they will. Certain designs, on the other hand, necessitate three to four unique sorts of knowledge, not to mention complicated coordination and continual rework. What appears wonderful on Pinterest or Instagram might not be realistic in your environment or living circumstances, but don't give up! That's where our bespoke furniture designer comes in, offering advice and suggestions.
It won't break the bank or take up all of your time, as you may expect.
You may feel that personalization takes a long time, but think about the last time you bought furniture from your favorite internet merchant. It took weeks for the products to arrive, and there was a lot of stress and hassle if anything didn't meet your expectations. On the other side, without having to contact customer support, you can receive exactly what you want in the same amount of time or even less.
Furthermore, we are able to collaborate with the most competent artisans and reliable procurement organizations, which allows us to keep our pricing cheap. As a result, you get excellent value for your money and eliminate the possibility of making costly mistakes and overpaying for supplies and labor.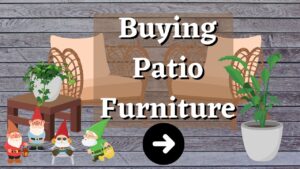 A better deal all things considered in the long run
Investing in a bespoke design may be required at times; however, the definition of an investment is that it produces some form of return. If you have a treasured antique chair or an expensive clock originally owned by your grandparents, you will realize the worth of an heirloom. However, have you considered the legacy you will leave behind?
Remember that your wonderful handcrafted chairs or coffee table are built to last and will always have market value, unlike fragile throwaway furniture. This is true even if your lifestyle does not allow you to hold something for an indefinite period of time. One of the reasons that contribute to their high level of appeal is the fact that they are not available anywhere else. What better way to show respect for the environment than to respect yourself?
Encourage and facilitate furniture creation.
It is a global virtue to support artists, particularly Australian craftspeople who manufacture local products. To keep the Australian economy growing. A lot of consumers want to support local companies that provide handcrafted items.
Despite the fact that the frequency of handcrafted work has dropped, people are aware that it demands special skills.
Many individuals enjoy shopping for garments and one-of-a-kind products at boutiques and specialty shops that are proud of the handcrafted items they sell.
Your appreciation for the polished talent of craftspeople can also be seen in your furniture selection. Certain artisanal skills have become less commonly used as a result of the drop in popularity of apprenticeships in recent decades.
It is critical to preserve manual labor skills through the employment of craft vendors.
Choose the finish and the type of timber
You want the handmade furniture you buy to stand out in your home, but not for the wrong reasons.
Your furniture will be a showpiece that will command attention.
Custom furniture in your home allows you to establish a collection that has a consistent look.
The easiest way to personalize a piece of furniture is to choose a stain color and type of wood.
Choose a high-quality wood species that will compliment your interior style and survive for many years. Choose from oak, cherry, white oak, or other high-quality wood.
It is possible that the material will be a particular type of wood. This will vary depending on whether you want furnishings for your bedroom or your office.
Where can I find and buy bespoke furniture?
If you are seeking bespoke furniture in Brisbane, please explore Custom House Furniture.
You'll find a dedicated furniture builder who enjoys working with Australian hardwoods.
Visit our website https://www.customhousefurniture.com.au/
The post Custom Made Furniture By A Furniture Maker appeared first on Write Buff.
The post Custom Made Furniture By A Furniture Maker appeared first on https://gqcentral.co.uk