Beyond Heating Cooling are Melbourne's ducted air conditioning experts. We've installed hundreds of ducted air conditioning systems over the years, and we take pleasure in providing our customers with industry-leading, honest advice on the most acceptable air conditioning system for their needs and budget.
Ducted air conditioning is a popular option for homeowners who wish to maintain stable temperatures and total climate control in every area of their houses.
Benefits of Ducted Air Conditioning For Melbourne Homeowners
The Visual Appeal
When it comes to the aesthetics of your house, ducted air conditioning has the advantage of not requiring an extensive system to be put in plain sight. In contrast to other types of air conditioning, such as a split system, which requires a big unit to be mounted on the wall, rendering the wall useless and detracting from the intended look of your house, subtle vents in the ceiling are all that is necessary.
Functionality and Effectiveness
Ducted air conditioning outperforms the great majority of other air conditioning systems on the market in terms of temperature and coverage uniformity. With ducted air conditioning, you don't have to worry about situating a single unit in an appropriate place and hoping that the cold or warm air reaches other rooms; you have total control over every area. Beyond Heating Cooling also installs ducted air conditioning systems from major companies, allowing you to divide your home into zones and set a different air temperature for each zone than the rest of the house.
This system will give you the most convenient heating and cooling alternatives for your house.
Cost-Effectiveness and Value
While ducted air conditioning was formerly considered a premium air conditioning choice, it is now more affordable than ever to install ducted air conditioning in your house. Not to mention that you're getting the most out of your power since modern ducted air conditioning is among the most energy-efficient air conditioning systems on the market.
Ducted air conditioning also adds to the total value of your home and is a major selling factor for many prospective buyers, particularly in Melbourne's hyper-competitive real estate market.
Beyond Heating Cooling has provided many Melbourne households with a ducted air conditioning system that they can rely on for many years.
Your house is your family's haven; keep it comfortable all year long with a high-quality ducted air conditioning system.
If you are unsure about this sort of cooling system, we also install split systems and can assist you in determining which choice is ideal for your house or business.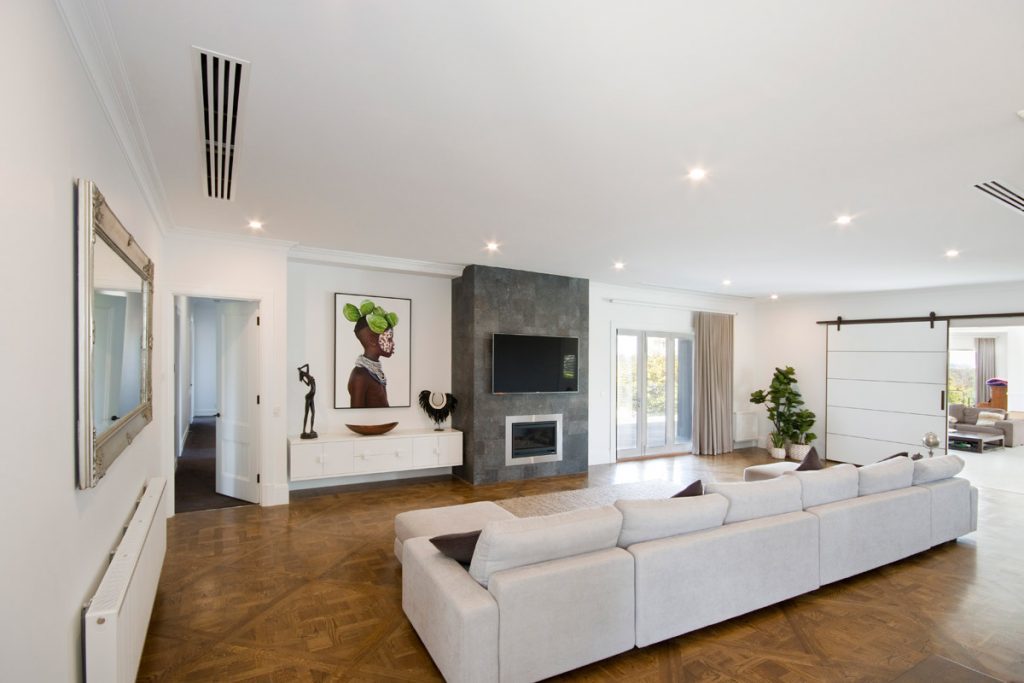 Is ducted air conditioning better for a Melbourne home?
Melbourne is known for having "four seasons in one day." This statement emphasizes not just the extremes of the weather but also how rapidly it may change. Because our houses insulate us from some of these extremes and abrupt fluctuations, it's reasonable to ask whether ducted or split air conditioning is superior. We vow if you asked us a black-and-white question, we'd give you a clear response. But it's a little more complex than that.
To grasp it, you must first understand what a ducted air conditioner is.
A ducted air conditioner 
From a modest two-bedroom apartment to a massive multi-story complex, ducted air conditioning systems provide unobtrusive cooling and heating to homes and buildings of practically any size. This form of air conditioning is popular because it runs silently (you won't even know it's on), distributes air smoothly, and provides a comprehensive air conditioning solution in a small package.
How does ducted air conditioning achieve this?
The silent functioning of ducted air conditioning systems is achieved by placing the system's working elements outside the building or in the ceiling region, which keeps all noise out of the room save a whisper.
A system of ducts in the ceiling with outlets or vents carefully positioned around the home distributes air smoothly throughout the house.
Zone control systems housed in the interior unit regulate where the air conditioner is utilized and allow you to switch off unnecessary zones to save energy. You may also adjust the temperature in different house areas to ensure that everyone is comfortable heated, or chilly.
How does a ducted air conditioner work?
A ducted air conditioner uses a refrigerant that circulates through the air conditioner via a tiny pipe, transferring heat from one zone to another.
For example, when cooling the house in the summer, the system absorbs heat from the inside air when the fan circulates air through the indoor unit and over the cold refrigerant tube evaporator coil. This implies that the air exits the interior unit more relaxed than it arrived, and the temperature of the room or residence steadily decreases as it cycles through the unit. In the winter, the converse happens: heat is absorbed from the outside air to heat the inside.
The refrigerant is delivered to the outdoor unit for cooling after it has circulated through the indoor unit and warmed up by absorbing heat from within. A fan blows air over the outside unit coil containing the heated refrigerant, releasing heat into the surrounding air. A compressor condenses the refrigerant and discharges the residual heat, further cooling the refrigerant.
The cooled refrigerant is returned to the outside unit through the inside unit. This procedure is performed indefinitely as long as the air conditioner is turned on.
How to use an air conditioner with air ducts efficiently?
Set the temperature of the air conditioner to 24°F.
In the summer, the air conditioner should be set at 24°C, and in the winter, it should be set to 20°C.
Running the air conditioner is first thing in the morning
Turning on your air conditioner first thing in the morning is a fantastic strategy to decrease heat and keep it functioning correctly. Most individuals believe that waiting until midday to turn on the unit would save money because it will operate for a shorter time.
Avoid using indoor appliances.
On hot days, use an outside grill or barbeque.
On hot days, using the oven or hotplates in the kitchen raises the temperature in your home and makes the air conditioner work harder.
Draw the curtains
While the sun is beaming on you, keep your drapes or blinds closed. This keeps the temperature in the room from increasing and the air conditioner from going on to control and regulate the temperature. Keeping the doors between the rooms that are in use closed will also save on energy expenditures.
Have the air conditioner serviced annually
A comprehensive service and cleaning by a certified technician are suggested at least every 12 months to guarantee your system functions at peak performance.
If you live in Melbourne, you can get guidance from  beyondheatingandcooling.com.au  by calling our team on  1800 239 663
Contact our team for a free quote.
The Article Ducted Air Conditioning For Melbourne Homeowners First Appeared ON
: https://gqcentral.co.uk