To raise the value of your portfolio, you must discover a method that does not need too much of your time and work. Investing cash is a fantastic idea, but how can you invest without placing yourself in too much danger?
This is a common topic; therefore, we'll attempt to discover an answer for the best approach to investing your money. Most individuals contemplate purchasing property or investing in stocks for the (hopefully) long-term growth in value.
Investigate the potential in each of these ways with us to help you expand your money without taking on too much danger.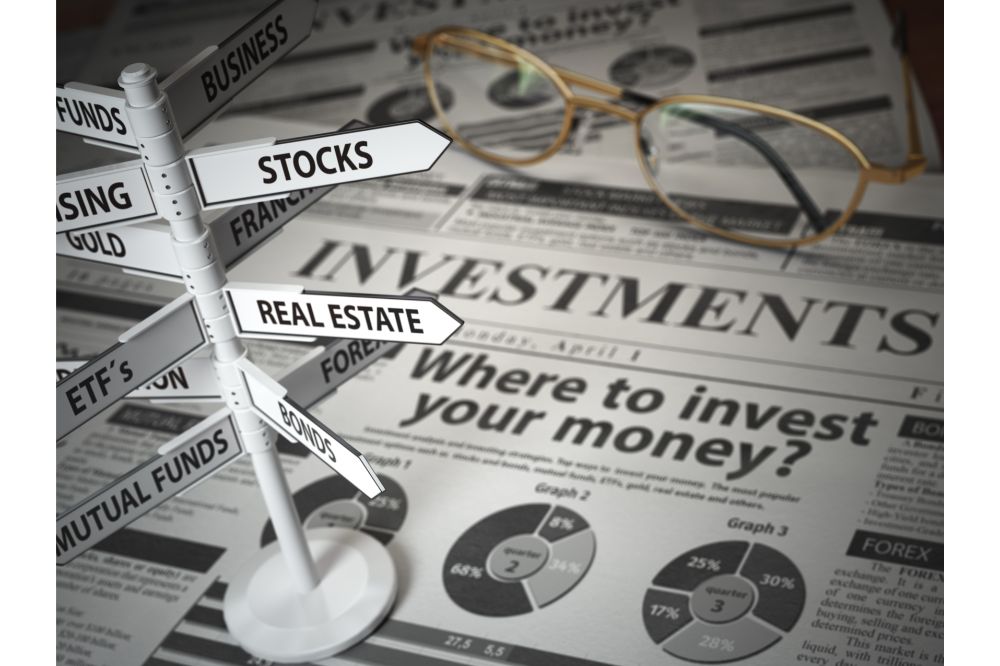 Which One Should You Choose?
We'll look at the two approaches, the hazards associated, and the rewards you may get from each.
Real Estate
Investing in real estate may be done in various ways, with the two major categories being residential and commercial properties. Residential investing is acquiring a home with the intention of renting it out or reselling it for a profit as soon as feasible.
Strip malls, office buildings, and even apartment complexes are examples of commercial property that need more capital than residential property.
Real Estate Risks
You must do an extensive study before purchasing property and investing in real estate. If you decide to invest your money in real estate, there are several things you should think about.
The first drawback of investing in real estate is that you will not be able to unload it fast.
Commercial real estate may take much more work and time to refurbish, and repairs may be required.
If you don't have the time, you'll have to hire someone to do it for you, which might be expensive.
Tenants who do not pay rent or pay it late are another hassle to deal with in rental homes.
You also cannot just evict renters if you want to sell the house and obtain cash immediately.
Pros
The fundamentals of property acquisition are simple to grasp, so you do not need to study how it works before investing. It works like this: you acquire a property, restore and repair what is damaged, manage the property's care, and sell for a profit as soon as feasible.
Investing using loan money is significantly safer when purchasing real estate for physical value. Even if you purchase with cash, you will feel more in charge of your property and find it simpler to maintain.
Investing in real estate may act as a hedge against inflation, ensuring the property retains its worth. This is because, in most cases, rent will rise in tandem with inflation, as will the home's value.
Property ownership may provide tax benefits, as you may be eligible for a tax deduction for mortgage interest paid. If you sell a business property and use the proceeds to buy another commercial property, you may avoid capital gains taxes.
Cons
Investing in real estate will almost always require more effort than investing in equities. Maintaining a home will take a lot of time and work, particularly if you want to rent it out.
If you want to invest in real estate, you will need a lot of funds; therefore, you may need to borrow money to get started. You must have a strong credit score and at least a 20% deposit in order to borrow the money.
High transaction expenses are often the norm when it comes to purchasing and selling real estate for a profit. The seller may be required to pay substantial closing charges, ranging from 6 to 10% of the selling price.
Diversifying your investment with real estate will be challenging since location is a major issue to consider when purchasing a property. It is also conceivable for value to rise in one region while sales fall in another.
Profiting from your real estate investment is not guaranteed, particularly if you acquire to flip soon for a profit. It may be less risky to purchase a house and rent it out to tenants to generate profits on your investment.
Stocks
Before you decide to invest in stocks, there are a few things you should think about. With so many possibilities on the stock market, you must do extensive study to choose the one with the lowest risks.
Even though it is true that investing in stocks is dangerous most of the time, there are strategies to lessen the risks. You should also seek for techniques to invest in equities that would provide the most returns on your investment.
Risks Of Stock Investment
When it comes to investing in stocks, there are many dangers to consider, including inflation and market volatility.
One of the numerous concerns is that the firm from which you purchase the stocks may have operations in other nations with their own issues.
These issues might cause stock values to plummet, perhaps resulting in a loss of revenue.
Another danger might come from an investor who chooses not to diversify their investments, putting them at higher risk.
Panic selling may occur if stock prices fall and the investor believes it is time to sell without fully understanding the dangers.
To see the pros & cons of a stock investment please visit: https://energimine.com/should-i-invest-in-real-estate-or-stocks/
The post Should You Invest In Real Estate Or Stocks? appeared first on https://gqcentral.co.uk